After purchasing a Galaxy product, there are many users who use the product's insurance service as Samsung Care+. I also subscribe to Samsung Care+ in case of an accident. It is an insurance service that reduces the burden of a large amount in case of damage to the extent that it is said. While using Samsung Care Plus, there were many cases where I canceled the Samsung Care Plus product of the product I was using when selling it as a gift or used product.
However, according to the terms of use changed on August 14, 22, you can see the changes as follows:
Terms and Conditions 5. Termination, cancellation, refund and transfer of the SC+ service contract are newly added terms and conditions. If you read the terms and conditions, you can transfer the service only once during the service subscription period according to the method set by the company! You can transfer the service of Samsung CarePlus.
Samsung Care Plus Service Terms and Conditions: https://www.samsungcareplus.com/static/tnc/kr.html#service
How to transfer Samsung Care Plus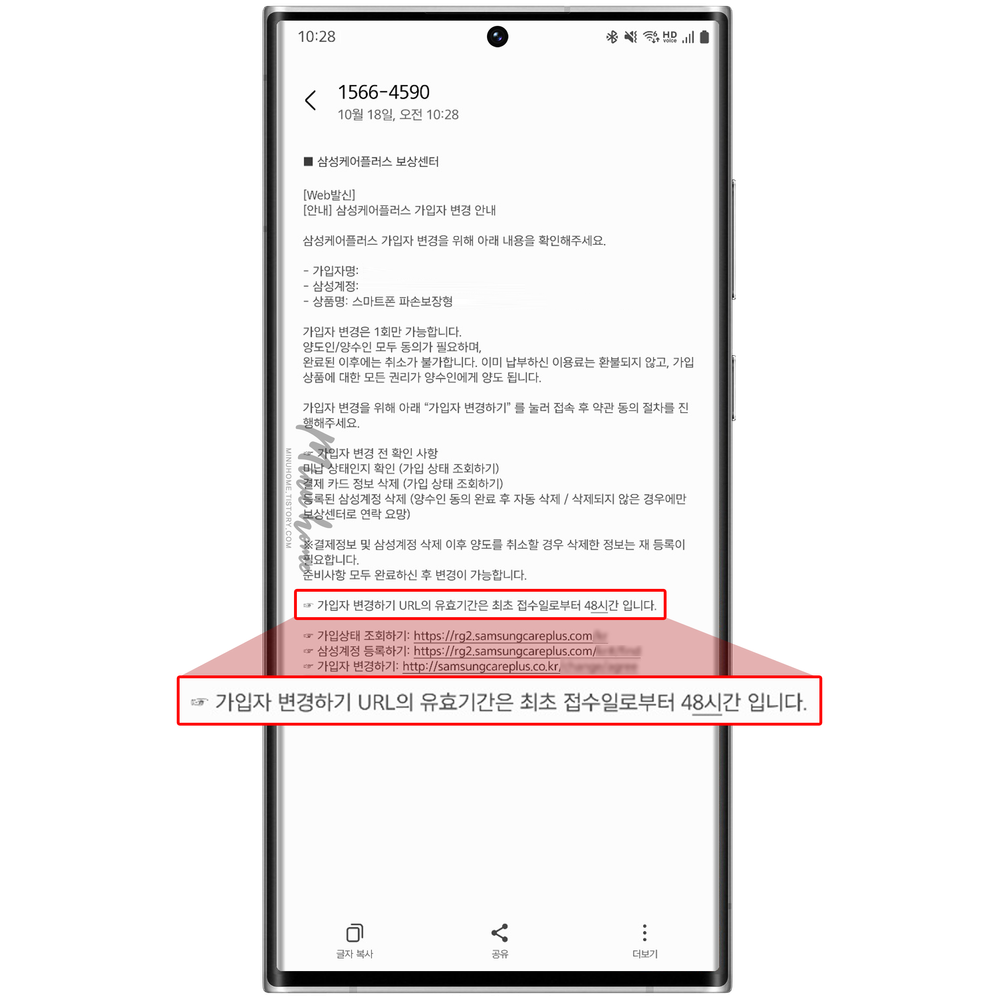 First, call the Samsung Care Plus Customer Center at 1566-4590. When talking on the phone, connect with a counselor and say "I want to transfer to Samsung Care Plus service" We will guide you through the transfer method along with the terms and conditions. Afterward, the URL that can be transferred is transmitted. This URL can be used within 48 hours from the date of application.
After 48 hours, the URL is locked and unusable. So, please apply when you need to change your membership. After that, select the "Change Subscriber" URL at the bottom of the text to go to the Change Subscriber page.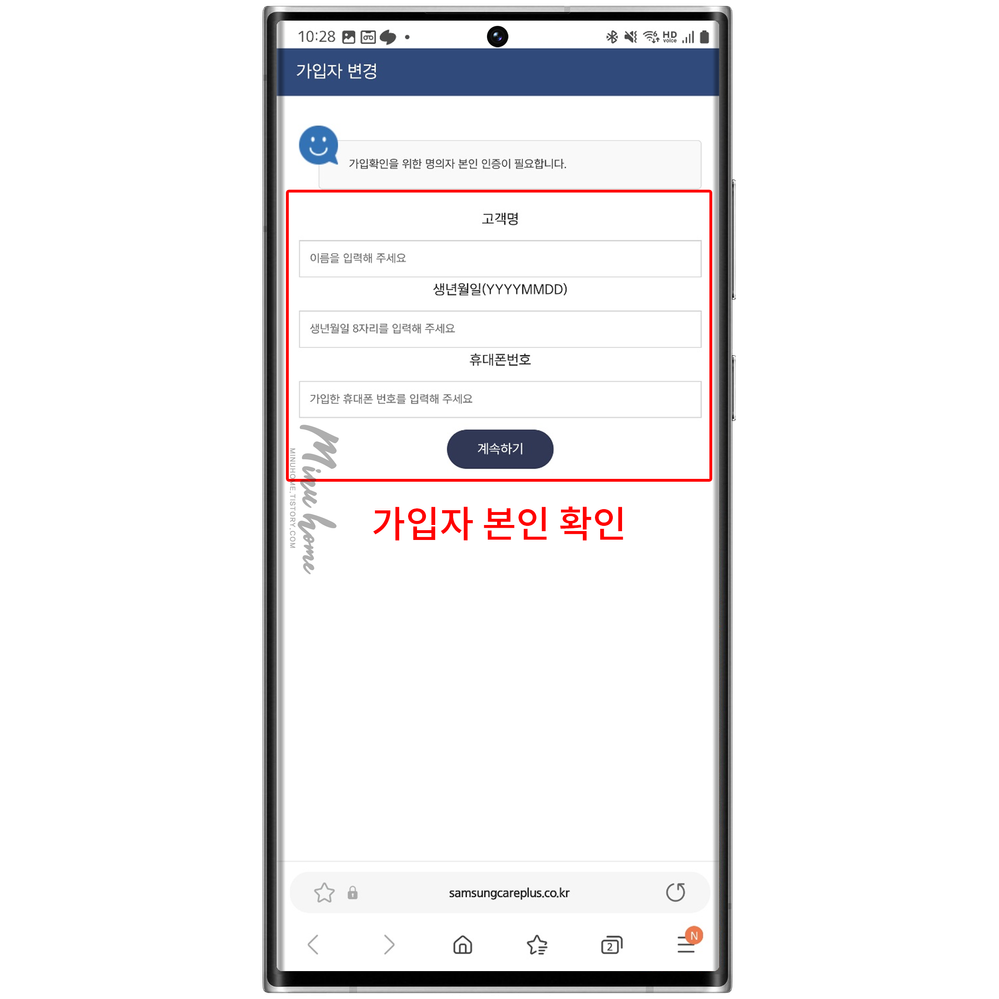 First of all, you need to verify your identity to confirm your subscription.
* Please enter your personal information registered for Samsung Care Plus.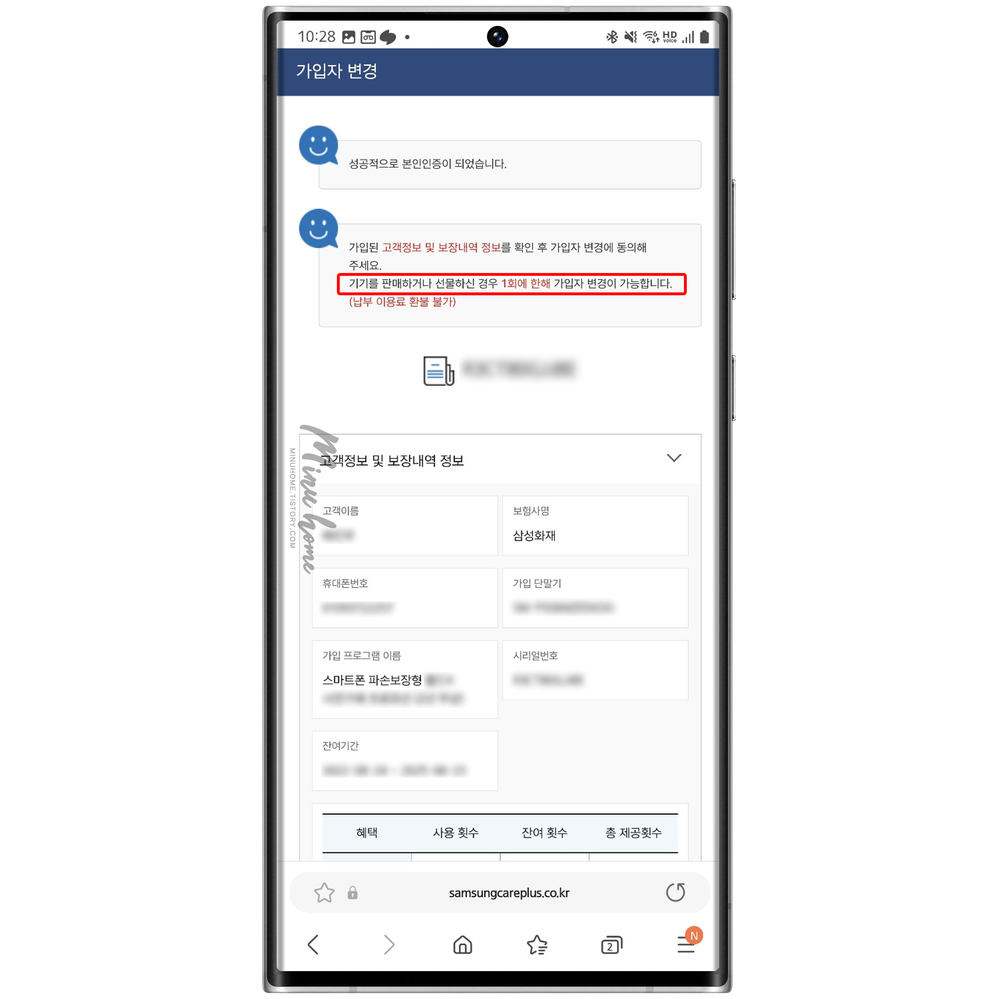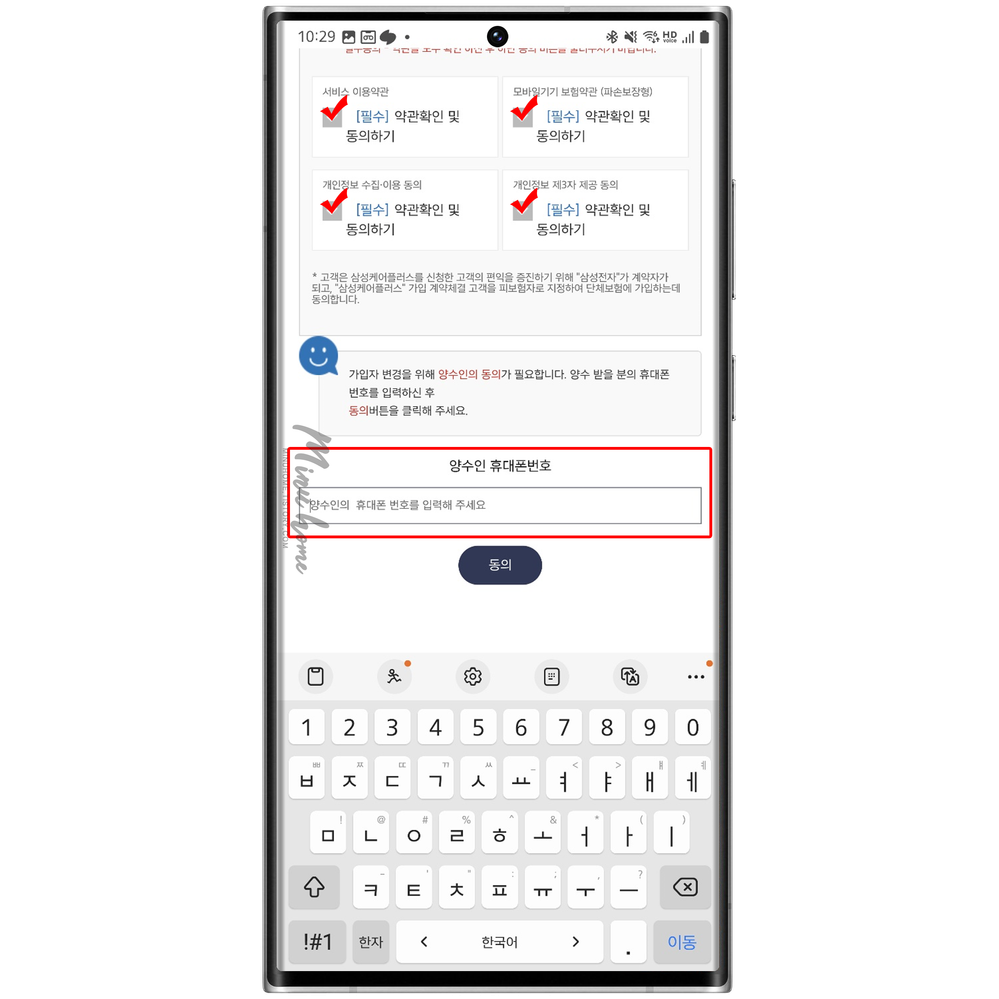 After that, you will be directed to the Change Subscriber page, where you can check your coverage details, read the terms and conditions below, and complete the check.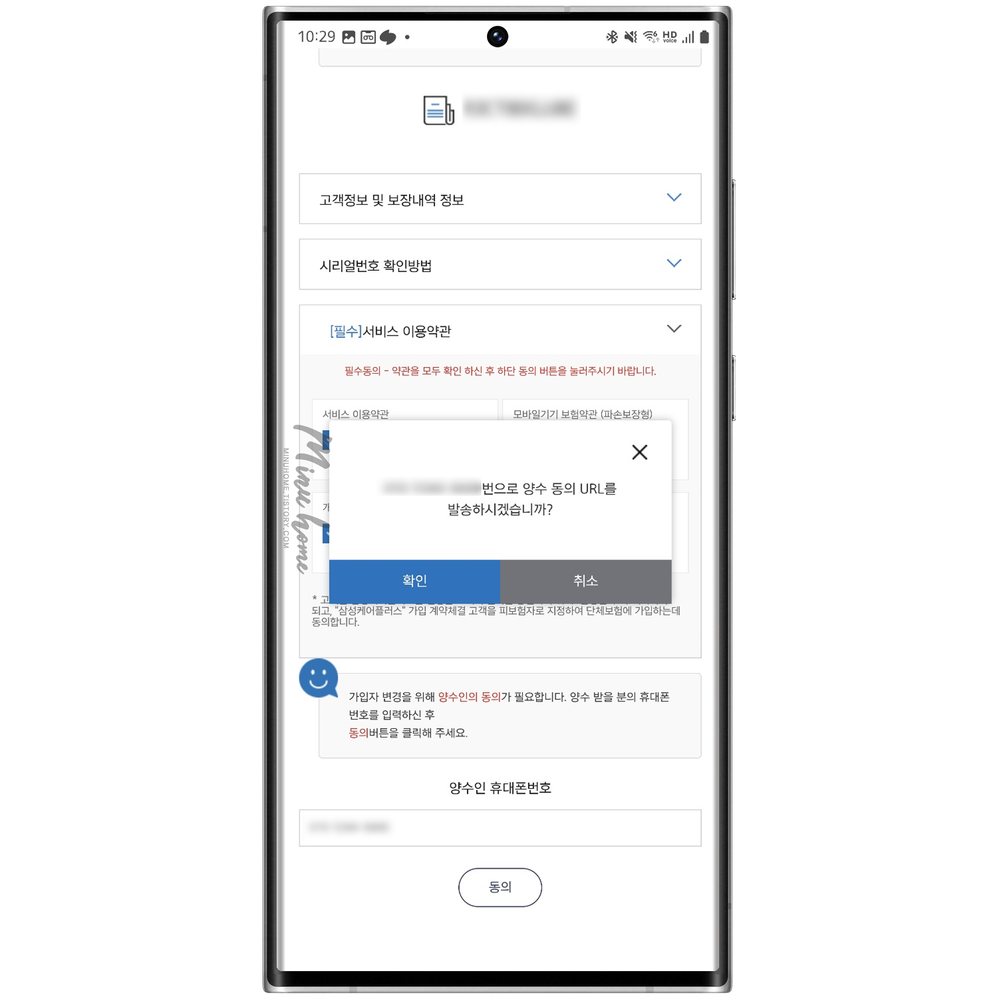 After entering the contact information, a pop-up window will appear to confirm the contact information of the recipient. If the number is correct, press OK to deliver the Alim Talk to the transferee.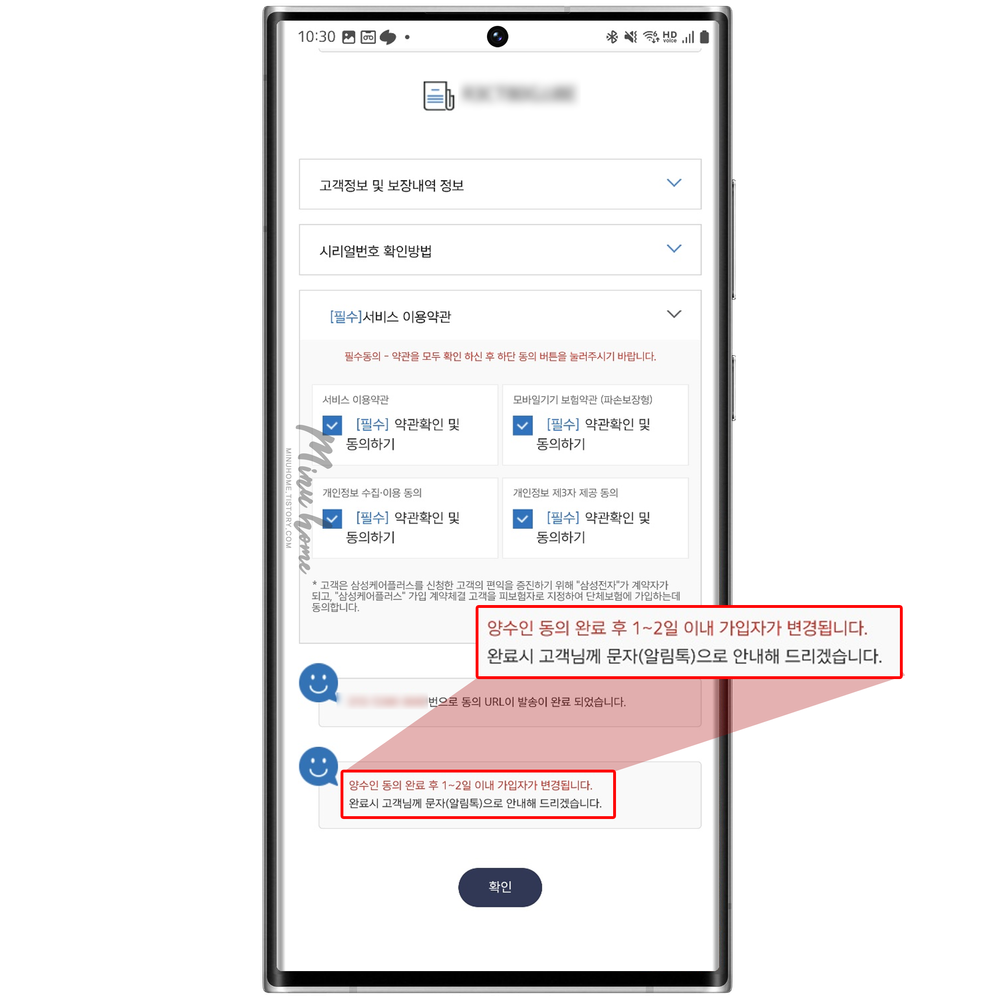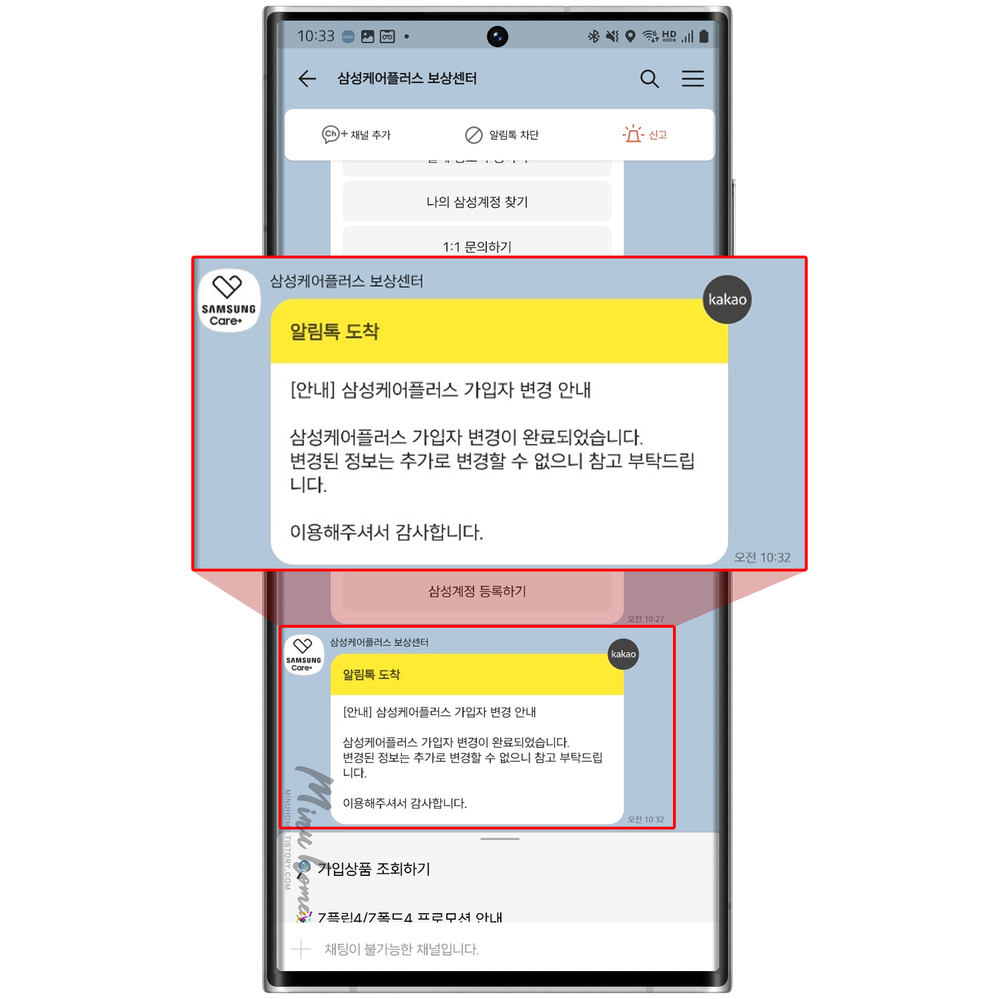 If you ask the transferee to check the notification after AlimTalk is delivered, the transferee will also receive a notification when the transferee agrees to the transfer with their Samsung account. When the notification arrives, the transfer of Care Plus ends with the notification that the change of subscriber has been completed.
It was unfortunate that I couldn't transfer to Care Plus, but it was nice to be able to do so after applying for the first time through the Samsung Care Plus Customer Center. Although this is cumbersome, I think it's probably the process of verifying your identity and insurance policy. When gifting your old device to friends or family or making a used transaction, try using the Samsung Care Plus transfer method, which can be transferred only once the first time.